The UK pond plant specialists...
I am David Kerr and I have been a keen gardener and plantsman all my life. I have been growing and selling aquatic plants for over 30 years and have also previously owned a trout farm for 15 years where I sold rainbow and brown trout together with koi carp and other ornamental fish, coarse fish and trout. I specialise in growing plants for ponds, watersides and other damp places and my main interest is in propagation. My deputy manager Ruth was previously a chartered landscape architect for many years, and is even better than me at visualising pond plans and layouts.
By purchasing plants from us you will get well grown, generously sized plants that will establish quickly. We pride ourselves on our service and believe that you won't find better. There is simply no comparison with the sort of plants you will get from the likes of eBay and our prices are very competitive. Please have a look at our customer reviews, which speak for themselves.
We have previously accepted visits by appointment only but will not be open for visits in 2022, sorry. The mail order business has grown exponentially and I'm afraid we just don't have time to entertain visitors. Orders this year are mail order only.
Plants not listed, or listed as out of stock, may still be available in small numbers – please enquire.
Unless stated, bare root plants will be of a size you would expect to plant into a 1 litre pot. A 1 litre pot is 10cm x 10cm x 10cm. Please note that most plants are not actually grown here in pots but in large shallow beds or ponds, they are harvested from here as required, so a section this size centred on a growing point is dug up to be prepared for posting. They are then washed to remove soil and weeds and reduce weight for packing. Later in the season, as they grow, leaves and flowering stems have to be trimmed back as many plants are tall. If you wish the plants to be sent untrimmed I can generally do this at an additional postage cost, but it is impractical to send full height plants over 80cm. It's much better for the plants' establishment success if they are trimmed. Please note that mat forming plants like Anagallis, Baldellia, Myosotis and Veronica do not look much once root washed as there is very little root and the plant itself is small. These are generally fast growing plants and will soon be away once planted.
For a detailed description of the various plant formats please see the Ordering and Delivery Information page.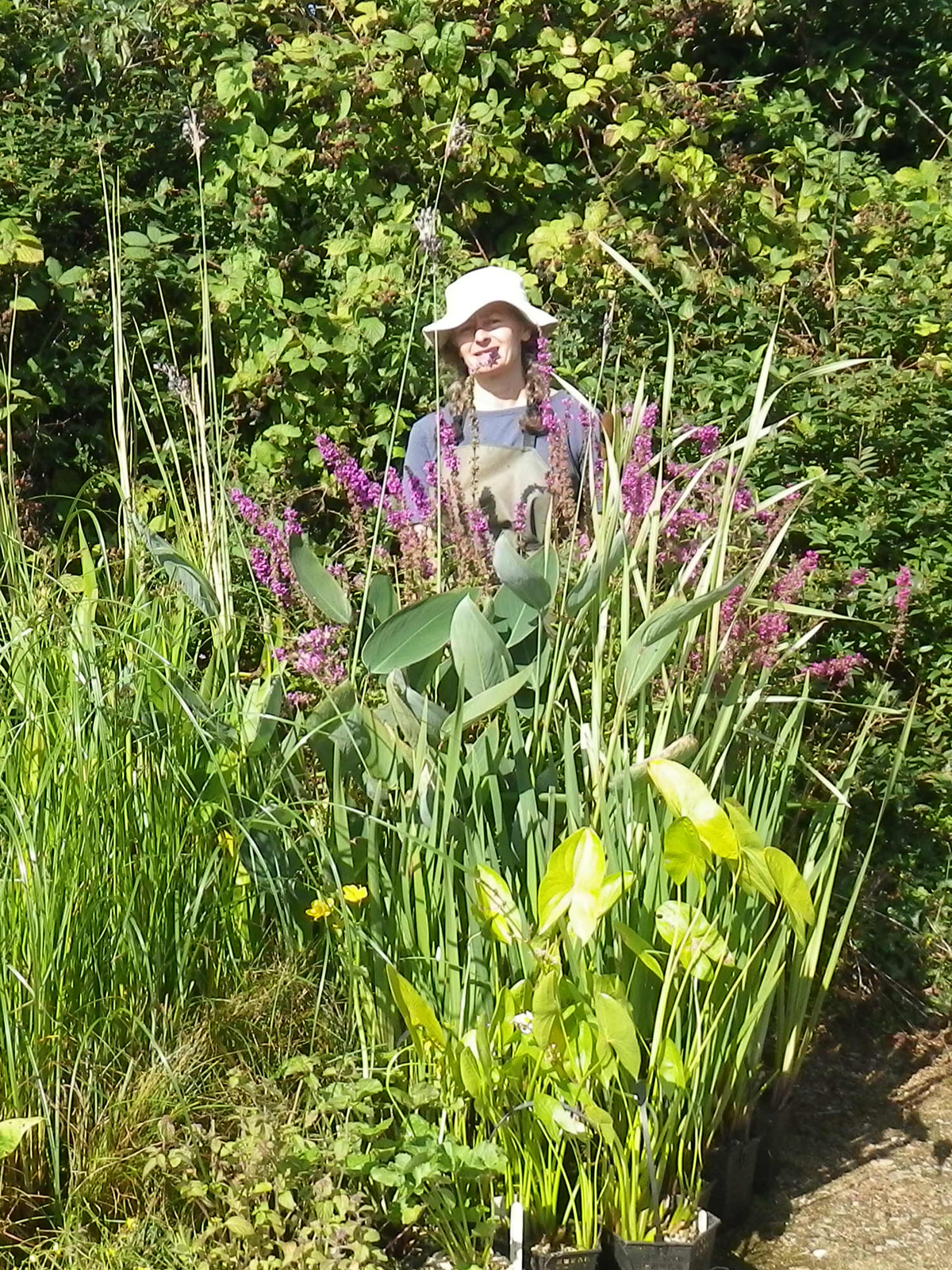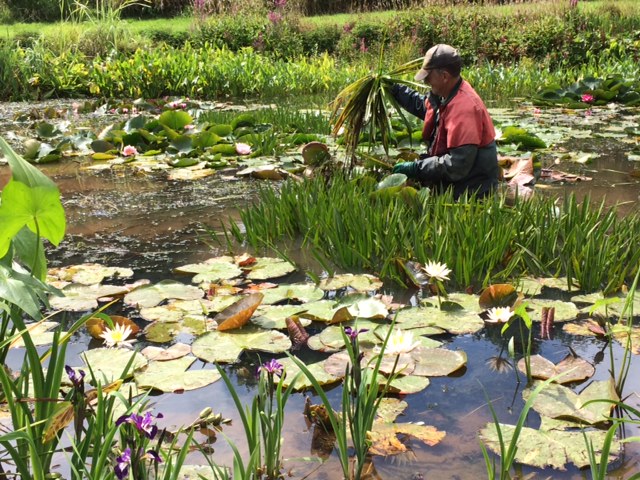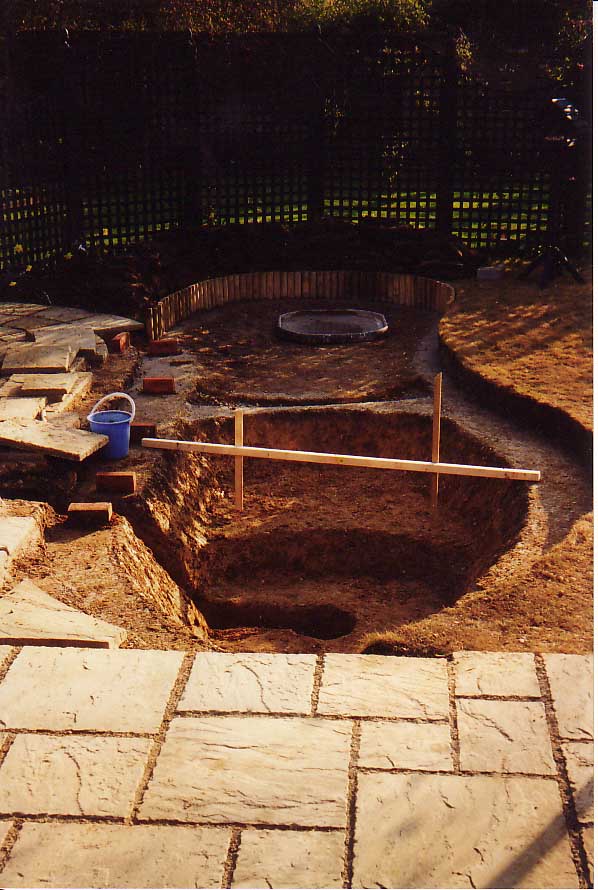 I offer a service to trade, landscapers and private individuals planning larger schemes. A suggested planting list can be supplied free of charge if I am supplied with a detailed dimensioned pond plan. I recommend a visit to the nursery beforehand to discuss your project, there is absolutely no obligation. I promise to give you sound, no nonsense, unbiased advice based on many years' experience.
Detailed planting plans can be supplied if required, and these are chargeable, please enquire. I will require a proper dimensioned plan of your proposals with sections and photos. Many such schemes have been carried out and references from happy customers are available on request. I REGRET THAT I AM UNABLE TO PRODUCE DETAILED PLANS DURING MY BUSIEST PERIOD, EARLY MARCH TO END MAY.
Larger specimen plants in sizes up to 100 litre drums are available on a collection only basis for projects where larger and more mature plants are required. The drums represent a saving on buying individual plants, and can be split on site into the size of clumps required. Generally speaking the economics only make sense for collection, since transport of these large and heavy containers will cost much more than the plants themselves. They can be left on site indefinitely if conditions do not favour immediate planting. They are available for most of the larger native plants and a few popular non-natives, prices start at £35 ex nursery depending on species. Please note they are single species containers, it is not practical to mix different plants in the drums. There is a £10 deposit on the drums, returnable on the return of clean undamaged drums.
If you are a trade customer requiring either regular supplies or single large orders then please do contact me first rather than ordering through the website. Discounts are already applied on 3+ and 10+ plants when ordered through the website, but I can generally offer further discounts on run of the mill plants, especially natives, when bought in 24 + and 100+ quantities. Specialist plants that are slow to propagate will not be discounted, sorry.
Recycling has become a hot topic, and the horticultural trade does rely heavily on plastic containers and packaging. The black plastic pots in which plants are placed in ponds are re-used time and again on the nursery, and will last pretty much a lifetime if not broken. Currently these are not recyclable since the automatic machinery at the recycling depot cannot pick up black plastic, but as soon as taupe or non-black containers are available we will use them. However it will be many years, if ever, before the last black plastic pot is deemed unusable at my nursery, since I am a skinflint.
Regarding the cardboard box outers, we use recycled boxes wherever possible – if your order arrives in an old Amazon box it doesn't mean we bought plants from Amazon to sell to you! Because we use so many and there is a limited number we can glean for recycling, we do buy new boxes too. These contain a high percentage of recycled material and are endlessly recyclable themselves.
The void fill packing chips that we use are starch and can be composted or dissolved in water, they are fully biodegradable and contain no plastics. 
We have also been investigating alternatives to the polythene bags in which we send bare root plants by post, and it is a minefield. Most "compostable" bags are still composed of 50-70% plastic held together with a starch-based binder. When the binder breaks down, it releases all the plastic as micro-plastics, the most damaging kind, into the environment. To my mind this is the worst possible outcome. Oxo-biodegradable bags are claimed to break down 100% into non-plastic and naturally occurring compounds, and we were on the point of changing to these when Greenpeace stated their objection to any single-use plastic, as these obviously are, and their support for recyclable plastic, which is exactly what we have been using up to this point. The problem is that there are still no recycling facilities for polythene bags or film in most areas.
I strongly believe that the way forward is to continue to use polythene for the time being and lobby for proper recycling facilities to be made available; these bags can then be used and recycled indefinitely. You can wash them and use them yourselves too. Surely this is the best use of resources?
We will continually review our recycling policy in the light of new information.
Happy water gardening!
Ms J H 12TH May 2020
Well, all I can say is that the plants arrived and I was so pleased I have never had such good quality plants on-line before. I will certainly be recommending you to everyone, and if we ever manage to earn any money in the future I will be back for more plants. All planted up and looking good.
Once again thankyou
Mr R S 26th March 2020
All in good condition and now planted. Very happy with the plants, thanks.
Mr MS 12.04.19
Good afternoon David Just an update to let you know that the plants you supplied are all happy and doing well in Portugal. Lots of pads and flowers as our handyman there describes them. Looking forward to seeing again when we return at the end of next week.
Mrs A R June 2016
Parcel turned up bright and early, all in good shape and now unpacked as per instructions.
Entire service was more than satisfactory – I will certainly be using you again. Indeed I'd love to come and visit the nursery the next time I'm in the area if that would be all right?
With many thanks,