Welcome to Devon Pond Plants
My nursery specialises in pond plants and those for watersides and other damp places. I send pond plants right across the UK through regular first class mail or by next day courier service, or plants can be collected from the nursery at any time by prior appointment. We are open for visits by appointment only in September, please use the contact form to request a visit giving your preferred weekday and time; we will then send confirmation and directions. PURCHASES MADE AT THE NURSERY ARE CASH ONLY, WE DO NOT CURRENTLY HAVE A CARD MACHINE.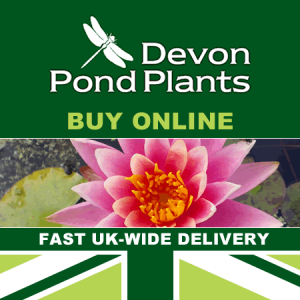 Please do not confuse my plants with "plug" pond plants commonly offered, or indeed the shreds of plant material often sold mail order on sites like eBay. My pond plants for sale are well established overwintered plants, which are fully acclimatised to outdoor conditions, not forced on under greenhouse conditions. This means that at the beginning and end of the season they may not be "Chelsea" perfect but they will be tough and will be good doers. If purchased at least a month before their normal flowering period they can be expected to flower that year, except in the case of the smallest options for water lilies, which may take a season to establish before flowering. If they are purchased during their dormant period, generally a good time to buy, they may look downright ugly! Potted plants are often kept under cover in unheated conditions and generally look more attractive initially.
All delivery services are still under considerable pressure due to driver shortages, so please be aware that some parcels may be delayed. We always confirm dispatch on the day it happens so that you know when to expect delivery, but this is not a guarantee of next day delivery. APC parcels can be tracked, but not Royal Mail ones. Our plants are packed to last at least a week without deterioration so please do not contact us about delays until this time has passed, there is nothing we can do about it once they have left anyway. If you cannot accept up to a week transit time then please do not order.
If you don't want us to send the plants when ready, please don't place your order without contacting us first. Notes on the order regarding specific times or days when delivery can be accepted will be disregarded.
Pond plant advice
If you plan to buy pond plants from us, I am always happy to give free pond plant advice by email or telephone on the suitability of plants for your particular situation. Many websites offer completely unsuitable and invasive species, which can be a nightmare to control, especially if they escape into the wild environment. I offer an especially wide range of native plants for wild areas or situations where escape into the general environment is more likely. I can give the best advice if approached before work starts on the pond; frequently I could have helped to avoid common mistakes if asked sooner.