To place an order you simply need to click on the plant you are interested in; this will open up a new page giving much more detail including size and number options together with prices. The default position is that the option is available unless shown as out of stock. Select the combination you require and click the Add to Basket button.
When you have added all the required items, check your basket, amend if necessary and proceed through the payment process. As of January 2022 there is a minimum order value of £20.00. Once the order has been confirmed and paid it is not possible to change it. If you have made a major mistake then please let us know immediately and we will do our best to rectify it.
Plant size and format descriptions
(all plants come with labels)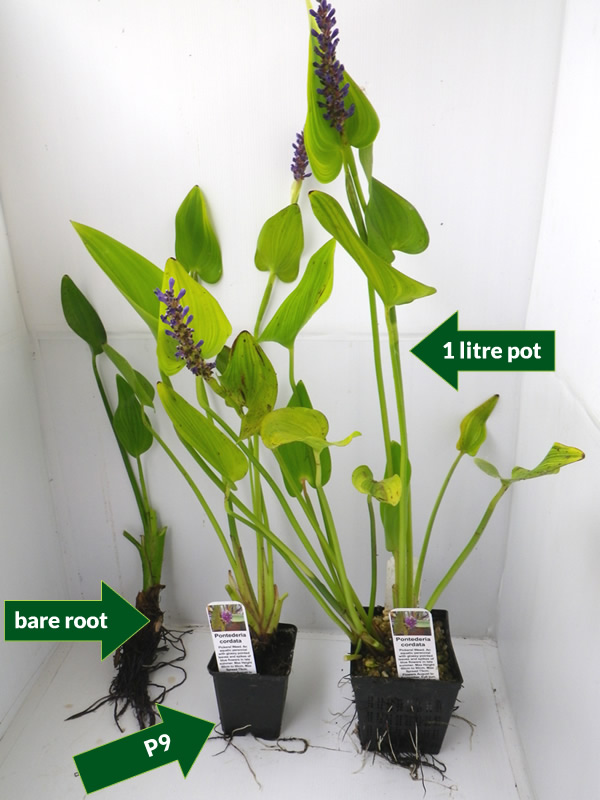 Mrs VW 20.03.19
Dear David
Just a note to say we received the plants yesterday – very well wrapped and still moist in their packaging – they're all in the ground / pond and I am very happy with them. Thank you for excellent customer service.
Mrs JW 12.03.19
Thank you, the plants arrived today, safely and in fine condition, very pleasing.
Ms A D 13th March 2020
Thank you very much for my plants which arrived today. It's great the way you separated them with their own information cards, too many times people just throw stuff in a box so it's a case of guessing what's what.
Great quality plants and a great service will definitely shop again.
Mr A H 4th September 2020
Dear Mr Kerr, My small order arrived quickly & safely yesterday. It is for a "pondette" which is a plastic planter of aboutb2ft.x14″!!. I am 84 & my gardening days are about over so as I wanted to put in an aid to the frogs, toads & newts which we have it had to be manageable from a mobility scooter. My daughter will install it for me.So, I regret I will not be ordering much more from you. However, I must tell you how impressed I am by your enterprise—your web-site is beautifully put together and your product range very good. Everything was very businesslike & informative. I was in business for fifty years and over recent years have despaired about the casual, take-it-or-leave-it attitude which has become the norm. I will certainly pass your name on to interested parties hereabouts. Thank you, . Best wishes & prosperity to you