To place an order you simply need to click on the plant you are interested in; this will open up a new page giving much more detail including size and number options together with prices. The default position is that the option is available unless shown as out of stock. Select the combination you require and click the Add to Basket button.
When you have added all the required items, check your basket, amend if necessary and proceed through the payment process. As of January 2022 there is a minimum order value of £20.00. Once the order has been confirmed and paid it is not possible to change it. If you have made a major mistake then please let us know immediately and we will do our best to rectify it.
Plant size and format descriptions
(all plants come with labels)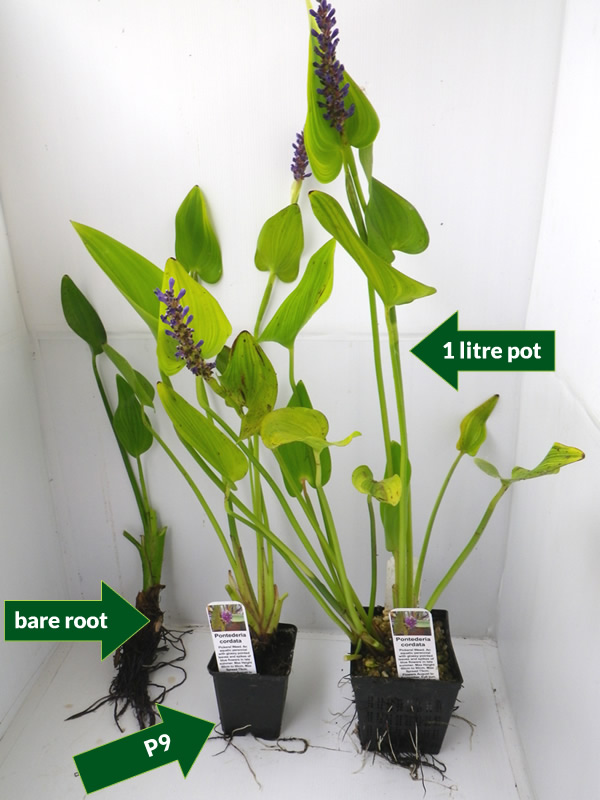 Mrs RC 22.05.19
Dear David,
This is just to let you know that my order arrived yesterday and I planted them out immediately. I was very impressed with the quality of the plants and the careful way they were packed. Overall the prompt turnaround with my order and the quality of my plants definitely exceeded my expectations.
This is my first attempt at water gardening, so I'm very much looking forward to seeing the plants become established.
Mr P E 26th April 2020
Many thanks for the plants which arrived promptly. We were very pleased with them indeed and felt you had been generous in selecting specimens with good growth of roots. We planted them right away, and are watching them bed themselves in and start to stand upright. We will be placing another order when I have had time to dig out the other half of our completely overgrown water garden.
Kind regards
Mrs EL 02.03.19
Dear David,
Thank you for your email. All the plants arrived very well packed and all look healthy.
Mrs EM 05.04.19
Dear Mr Kerr
Thank you, our plants arrived today and look in fine condition and we are very pleased with the selection. Your website is most informative, and I hope we can keep in touch if we have any problems or send you photos of our success!
Thank you again for your excellent service.