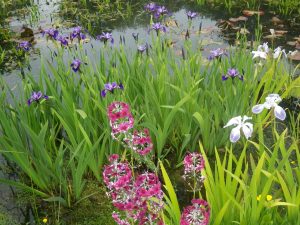 Welcome to my first blog; I now intend to produce a blog monthly during the growing season. Everything on the nursery is looking absolutely fab at the moment; we haven't had the normal rough Spring weather to knock plants flat, but watering is becoming a chore earlier and earlier every year. All the water iris in our main display pond are in full flower, and this is our annual opportunity to rogue out any that have appeared in the wrong places. It's amazing that no matter how careful we are there are always some that end up with the wrong labels, I'm sure that gremlins come out at night and move them. It's the same with the candelabra Primulas that have been fantastic this year, perhaps you saw our plants being used on Gardeners' World on 5th April. Within hours of the programme I had sold out of P wilsonii var Anisodora but I have some seedlings coming along well and should have more available next season.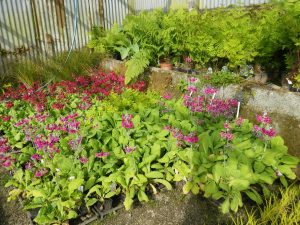 While I'm on the subject of flowers, many plants are now tall and we do have to cut off tall flower stems for several reasons when packing plants, so if you find a cut flower in your parcel please be assured that we haven't done it out of spite. If plants are given the job of re-establishing at the same time as flowering, there's a good chance that they may fail. It's much better that the plant has good roots and little or no top growth – like the young ladies in the tabloids – all bottom and no top on! There is also the more prosaic reason that they simply don't fit in a standard box, we can hardly send a 2 metre tall plant in the post for £4.50.
Thanks to an excellent growing season we have reduced our prices on quite a number of plants so do check out the website for deals – they won't hang around for long. For example water soldiers are now one of the only remaining floating plants that we can sell to provide valuable surface cover and they are also native, they really do seem to help with clear water. We still have good stocks of native oxygenators too, so make sure that you have plenty to keep your pond healthy.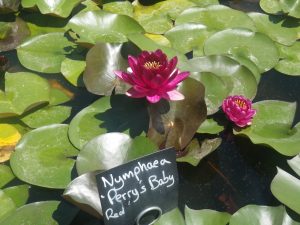 Water lilies are now flowering in profusion and our Perry's Baby Red are looking particularly good with much bigger tubers than normal. These are on special offer now at only £12.50 each and are perfect for smaller ponds in 30-50cm of water.