Welcome to my blog; what unprecedented times we live in.
We are still working 14 hour days seven days a week, but the despatch queue is neither expanding nor shrinking and we are hoping that things will slowly ease. Currently we are despatching 7-10 days from order. Clearly everybody has spent lockdown digging ponds and stocking up their gardens. Surprisingly, we still have pretty good stocks, despite having achieved six months' turnover in six weeks. We see that many of our competitors, who not only don't grow plants but don't ever see them, don't know the first thing about them either, and rely on an arm's length transaction with a wholesale company to supply plants, are advertising a six week delay before plants can be despatched! Schadenfreude is great.
In my last blog I thanked all those that had helped see us through this difficult period, but made an unforgiveable omission in that I did not mention my long-suffering website guru Jamie Snape of BIG online. He has worked tirelessly to get our website working at peak performance, and the moment he achieved this I was emailing him to ask him to stop the website taking new orders as we were overwhelmed. This has happened not once but twice during May, and as I write I am hoping that we don't have to do this a third time. Jamie has been absolutely brilliant and if you have a website yourself I can recommend him highly. Just remember – he was mine first!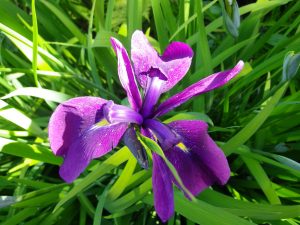 Irises are now in full bloom and it does grieve us to cut off the flowers when we send them, but if we don't do this they will have little chance of successful establishment. The same goes for big leafy plants which may seem to have been cut back brutally, but I promise you it's for their own good! It's too much to ask a plant to root successfully while supporting a mass of leaves and flowers.
The nursery is still brimming with lovely plants, as per usual some will go in and out of availability as the weeks pass, but new batches are constantly being propagated, so don't panic if something you dearly want isn't available. Our low postage charge means that it won't be too painful to put in a separate order later on. Water lilies are blooming profusely now, and it is an ideal time to buy them. We do rely on getting out and about to harvest oxygenators and floating plants from outlying ponds locally, and we have not been able to do that, so it's possible that availability of these plants will be more hit and miss than usual.
We are looking forward to things getting back to some semblance of normality, but until then please be assured that when you order plants from us you will get them as soon as humanly possible and in tiptop condition. It may just take us a little longer than usual. We always send a despatch advice to let you know they are on their way.
We are hoping to be able to open to visitors again soon, but this will likely be very restricted, not only because of Covid but because we are so busy still with mail order that we have no time to stop and chat, especially early in the week. I suspect we might have to restrict visiting to Fridays only until the zombies have been defeated.
Please check updates on the Home page and Delivery Information page before ordering.
Stay safe and in good health
David and the team at Devon Pond Plants